3.1 Supporting the shield

MONSTERS

Monsters are mythical creatures or combinations of parts of natural ones.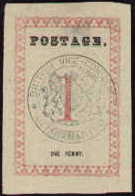 The heraldic unicorn is a one-horned horse with a lion's tail.
British consular mail in Madagascar

| | |
| --- | --- |
| The griffin is a combination of lion and eagle. | Dragon |

Aquatic monsters are humans or animals with a tail of a fish replacing the lower part of the body.
| | |
| --- | --- |
| Merman & mermaid | Sea lions and sea horses can also be winged. |